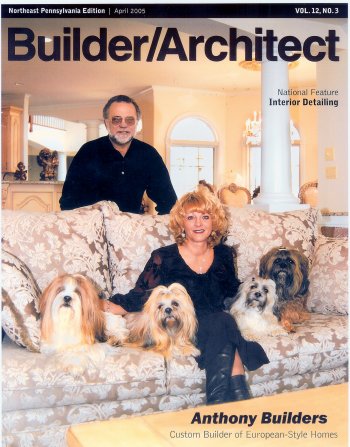 Welcome to Anthony Builders, Inc.
"Custom Home Builders" Serving the Lehigh Valley
"European Style Homes"
"There is Nothing Nicer than to Build a House that You Enjoy Building"
We Feature Designs by Frank Betz and Scholz Design
Ask Frank Alexander about his company or profession, and you will not only get a straight-from-the-heart answer, but you will immediately be hit with his vibrant flow of energy and enthusiasm. His pride and personal satisfaction become evident as he talks about values, the importance of craftsmanship, and how doing something that you really enjoy makes a difference in your work.
Now ask Frank Alexander about his European Style Homes, and what he gets out of building them, and you will see a level of pride and excitement that you will only find elsewhere on the face of a first-time father with his newborn son.
European Style Homes - Frank Alexander's Pride and Joy
"We do some really neat stuff. People from all over the valley come out to our communities to see the kinds of homes that we are building," says Frank with an enormous amount of pride and enthusiasm. His company, Anthony Builders, Inc., has acquired the unofficial, yet thoroughly qualified, designation of being a specialist in building European Style homes. Building this style of home takes an uncommon builder to build them properly, and to make a profit in the process. Frank Alexander has this unique characteristic, along with one very notable advantage... he just loves to build them! His passion is fueled by the personal gratification of building such complex, visually appealing homes. "There is nothing nicer than to build a house that you enjoy building," exclaims Frank. While Anthony Builders, Inc. also builds more traditional-style homes, it is the European Style home that provides the most reward. "The difference between a traditional house and a European Style house is the level of craftsmanship that has to go into building the European Style, as opposed to the traditional style home." Frank energetically explains his enjoyment in building European Style homes this way: "It's the difference between getting into a Miata and driving from here to New York, and then getting into a Porsche 911. They are both fun to drive, but if I had my druthers, I am taking the 911."
Also fueling his passion for European Style homes are the reactions from prospective home buyers and his customers. "When people walk into a European Style house, with the vaulted ceilings, and the neat staircases that are open to areas beneath, and with the built-in plant shelves all over the place...people love them. You can't help but like things that are nice,"he says.
Personal Involvement and Pride
The personal involvement and pride that goes into building a home of this nature is shared by everyone involved in the construction process. Frank points out that "European Style homes are a completely different animal (to build) compared to a more traditional house." Building a house that is more challenging and which requires more thought tends to bring out the craftsmanship within each subcontractor in all parts of the construction process. "When we get in on a neat European Style home and the things that we do," explains Frank, "the guys love to talk about them, because it's the one bit of time where they actually get to use their brains a little bit. Now they get to put a little bit of themselves into this house." The pride that these guys have for their work is clearly evident. "On a Saturday or Sunday when our model house is open, all of the subs, regardless of who they are - the framing contractor, the concrete guy - whatever part they played, they will always bring their wife, always bring their parents, always bring their friends to see something that they feel they really had a part in, that they're proud of, which is always the European Style Homes that we build. It's nothing to see their names written in the (guest) book. Or I'll be there talking to the realtor or talking to some customers, and see them come through the house bragging about what they did," Frank continues, "You won't see them do that in a conventional house."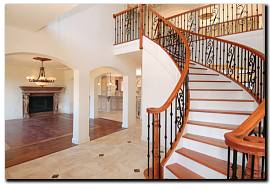 This pride in workmanship reflects directly onto the quality of work that the subcontractors put out. "Theses guys have been building European Style homes for 10 years. And for 10 years, every time we go on a job, there are questions. But they're not the same questions, they are always questions to try and better it...they're into what they are doing. They are not so much into slam-bam just pop 'em together kind of attitude." And in Frank's enthusiastic opinion, the quality of work that these guys give to a home they have had input in is unbelievable.
Unorthodox Designs
What European Style homes feature on the inside is the reason why so much of the outside appearance is as unique as it is. And the interior layout/design of these homes fires up Frank just as much as the challenges of construction and the craftsmanship required to build these stately homes. "In the bathroom, you have ledges up above your medicine cabinet that go back 18 inches, and come back up on a vaulted area with back lighting and mirrors, and plants hanging down off the wall, so that the flowers look just like they're flowing down off the top of the wall," he says. It's this kind of difference that sets the European Style homes apart from the more traditional style. Typical of European Style homes is their unorthodox, yet often practical, floorplan. Master bedrooms are found on the first floor in back of the house, staircases wrap around a wall that come to overlook the kitchen and great room, and a separate private room within the bathroom encloses the toilet.
Frank Alexander and His Company
Frank Alexander's enthusiasm and energy is equally balanced with his honesty and down-to-earth values. Frank acknowledges that the majority of people truly do like the looks and design of the European Style; most purchasing decisions are based on the square footage and price. For this reason, Anthony Builders, Inc. does offer potential home buyers a variety of design styles from which to choose.
Frank Alexander, president of Anthony Builders, Inc. has been building homes throughout the Greater Lehigh Valley since 1974.
Home · Virtual Tours · Community Guide · What's New! · The Homebuilding Process
Home Features and Specifications · Model Homes · About Us · Contact Us
---
Anthony Builders, Incorporated
434 Clearfield Street
Freemansburg, PA 18017
610-865-9314