CHESTER COUNTY SCHOOLS AND SCHOOL DISTRICTS
Public School Districts and Townships Serviced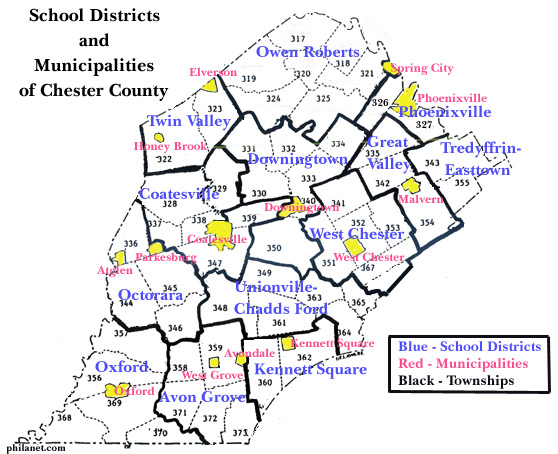 Avon Grove School District . 610-869-2441 Penn, New London, Franklin, London Britain and London Grove
Coatesville School District . 610-383-7900 West Caln, West Brandywine, Caln, East Fallowfield and Sadsbury
Downingtown Area School District . 610-269-8460 Wallace, Upper Uwchlan, West Pikeland, Uwchlan, West Caln, West Bradford, and East Brandywine
Great Valley School District . 610-889-2100 Charlestown, East Whiteland, Willistown and the Borough of Malvern.
Kennett Consolidated School District . 610-444-6600 Kennett and New Garden
Octorara School District . 610-593-8213 West Sadsbury, Highland, Londonderry and West Fallowfield
Owen J. Roberts School District . 610-970-2040 North, South & East Coventry, East & West Vincent, East Nantmeal and Warwick
Oxford Area School District . 610-932-6600 Upper Oxford, Lower Oxford, East & West Nottingham, and Elk
Phoenixville Area School District . 610-983-8861 East Pikeland and Schuylkill
Tredyffrin/Easttown School District . 610-644-6600 Tredyffrin and Easttown
Unionville-Chadds Ford School District . 610-347-0970 Newlin, Pocopson, Birmingham, Pennsbury, East & West Marlborough
West Chester School District . 610-436-7000 West Whiteland, East & West Goshen, Westtown, Thornbury and East Bradford
*Students from Honey Brook, Elverson and West Nantmeal are served by the Twin Valley School District of Berks County; students from Spring City are served by the Spring-Ford School District of Montgomery County.
---
Vocational Schools
Center for Arts & Technology . Coatesville, PA . 610-384-1585
Center for Arts & Technology . Phoenixville, PA . 610-933-8877
---
Parochial Schools -- Information
Chester County Intermediate Unit . 610-524-5000

Pennsylvania Department of Education . 717-787-5420
---
PRIVATE SCHOOLS
Bishop Shanahan, Downingtown
Bishop Shanahan is part of the Archdiocese of philadelphia's system of 22 Roman Catholic high schools. The 1998 School year will mark the opening of their brand new school, located in Downingtown PA with many new amenities including sports fields, swimming pool, computers, gymnasium and auditorium. Enrollment is expected to be 780 for the new academic year.
The Concept School, Westtown
This school enrolls about 60 students from 5th thru 12th grades and presents an academic curriculum with methods and materials devised to help students experience success as well as the challenge of learning, including hands-on learning experiences in the arts, computer tech., and outdoor nature classroom.
Devon Preparatory School, Devon
A Catholic boys school enrolling about 200 6th - 12th graders. They offer many advanced placement courses along with extracurricular activities, including varsity sports teams. 100% are accepted to 4-year colleges.
Kimberton Waldorf School, Kimberton
Taking a more creative, interactive approach to learning, educational goals at the school are to promote learning through discovery and experience, to build self-assurance and develop the creative process by integrating the artistic process in all subjects. 330 students from pre-K to 12th grade are enrolled.
Landmark Christian School, Downingtown
This school is part of the Landmark Baptist Church founded in 1985 and enrolls 80 students, kindergarten thru 12th grade. At the end of the 5-yr.. old kindergarten level, children are able to read, tell time, count, add and write sentences. The 1st thru 12th graders use the School of Tomorrow curriculum, which is a Bible-based, individualized curriculum.
Malvern Preparatory School, Malvern
Founded in the Augustinian tradition, this independent Catholic, college preparatory school is for boys grades 6-12. Although 80% of the anticipated 550 1998 enrollment is Catholic, students of any faith are welcome on their 143-acre campus. Weekly chapel service, community service participation, special math literacy programs and a highly automated library, along with 40 sports teams are among its amenities.
Upattinas School, Glenmoore
Upattinas is a family-cooperative school and resource center for home-schoolers. The school enrolling about 100 full or part-time students, from Philadelphia to Lancaster, in kindergarten through 12th grade. A sister school in Japan results in the presence of Japanese boarding students on the Glenmoore campus.
Villa Maria Academy for Girls
Villa Maria is a Catholic school which prepares girls to become Christian women assuming leadership and service roles within the family, community and church. The program encourages students to perceive and maximize their capabilities, to accept their limitations and to develop positive self-images through spiritual and academic learning.
West Chester Christian School, West Chester
Students from kindergarten - 12th use the Bible as the center of curriculum in this ministry of Bible Baptist Church school. Only students from Christian families are accepted. As well, all faculty and staff are born-again Christians.
Westtown School, Westtown
Westtown School, located on 600 acres is a coeducational boarding and day preparatory school for students in pre-K through 12th grade. Founded in 1799, it enrolls 600 students (350 in the upper school) from 23 countries and 31 states, with about 95 faculty. This Quaker school engages students in a pursuit of truth -- through studies of sciences and the arts, and also through exploration of their own beliefs and values. They believe the teaching of values are a fundamental part of the educational process.