"Andy Cahan The Most Famous Musician You Never Heard Of"
by
Andy Cahan
©1997 Andy Cahan
Sponsored in part by:
(click here to visit the site)

I joined Mark Volman and Howard Kaylan (aka The Turtles) in 1973. Since then I've recorded many albums, toured the world and did many TV shows with The Turtles, Flo & Eddie and solo projects.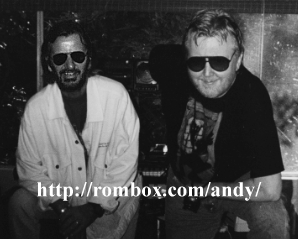 In October of 1989, Flo & Eddie had their own radio show that followed Howard Stern on New York's K-Rock 92.3FM. They were part of a thirty radio station live broadcast from Universal City Studios for the Alice Cooper / Clarence Clemens Octoberfest. Mark Volman asked me to drive a Limo, pick up the many luminaries; Eric Burden, Bobby Hatfield, Kevin Meany, Dean Torrance, Weird Al, Ray Manzarck, Rosanne Barr, Alice Cooper, Elvira, Mickie Dolenz, Richard Lewis, John Densmore and Harry Nilsson. I had my keyboard set up and performed either "Happy Together" or the "Hit" of each artist live on the air after they were interviewed (in a little tent set up on the lot.)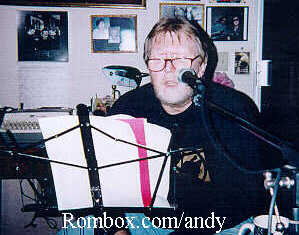 When I drove out to Hidden Hills to pick up Harry Nilsson, I was real nervous. After all, this was the Beatles favorite American singer/songwriter... Nilsson! When I arrived at his home, I opened up the rear door of the Limo. Harry said,"No thanks, I'll sit up front with you." So there we were, driving down the 101 freeway to Universal, jammed in traffic. What else to do but to light up a cig and talk about The Beatles! I was in heaven. Harry would tell me so many stories, I could hardly remember them all. But I do remember him telling me that Keith Moon and Momma Cass both died in his Bed in his London Flat!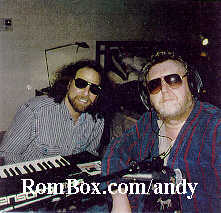 So we did the broadcast, and did a "Dillards" song with Mark & Howard singing harmonies while Harry sang lead. He forgot the name of the song, and to this day I still don't know the name! But I do have tapes of the show. After that, I took Harry to his office, Hawkeye, which was a company that supplied scripts to film production companies. It was just a month later that Harry found out his trusted accountant for eight years, Cindy Simms ripped him off for over eight million dol lars. I do believe, that was the beginning of the end for Harry. He was devastated. Not only did he lose his land in Australia and Bell Air, but he almost lost his home in Hidden Hills. He also owed the IRS two million in back taxes. He took her to court, and she ended up in jail for maybe a year or so... that's all?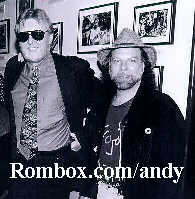 In the meantime, I asked Harry if he was still doing music. He told me that he sold his piano and guitar and was busy raising his family of six kids and a wife! So I said, "Hey! Why don't we get together and record some stuff in my studio." He liked the idea very much. So much, in fact, that he recorded twenty five songs. They are still on the shelf, waiting for his estate to figure out when or if they want to release them. The name of the album was "Papa's Got A Brown New Robe".
The demos recorded at my studio are:

245 Lb. Man - Harry actually had one of my clients, Jessica Silverstein sing backup and double lead vocals on this wonderful song.

Bedsprings - This is the first song we worked on together, from his play Zapata.

Fruit Of The Loom - One of the many commercials we submitted to various ad agencies.

Give It All You Got - Another commercial.

Hide & Go Seek - Another commercial.

High Heel Sneakers - The original version of "Rescue Boy".

Honky Tonk Heaven - Harry loved this song by Meryl Haggard

I Know Why - This Glen Miller classic was a gift to his attorney.

It's So Easy To Live - The second song we recorded for Ringo's album. Unfortunately, Ringo turned it down!

Lost And Found - A Mark Hudson composition.

Love Is The Answer - Another track from Zapata.

Me And My Arrow 93FM - One day Harry noticed Arrow radio 93FM in LA. He said, "lets make a 30 second add and send this as a gift to Arrow radio." I sampled the beginning phrase, " Me And My Arrow", then added the music and Harry's vocal, "93 FM".

Me, Myself & I - Title song for the IRS video of the same name. It starred George Siegal and Joe Beth Willams. We also did all the filler music.

Mother In Law - What a great version of the classic! I programmed the music verbatim.

Motherlove - A song we never really finished. One of the last sessions before his heart attack.

Mrs. Crawford - Another commercial.

One Year - Another commercial.

Red Neck - Alternate version of "245 Lb. Man"

Rescue Boy - The very last song recorded, days before Harry had a heart attack. It was originally "High Heel Sneakers".

She's Tall - We were asked by Deborah Hill (film producer) to record this track for the TV film "Attack Of The Fifty Foot Woman" starring Daryl Hanna.

Shrink Rap - A hilarious nine minute "Rap" song Harry wanted to record as a spoof on rap music.

Strange Love - Another Mark Hudson composition.

Tainted Woman - Another unfinished early demo.

Ten Year - Another commercial.

This Could Be The Night - This famous Nilsson song was re-recorded with two new verses. Very Cool!

Tonight Song - Submitted to Jay Lenno for the new Tonight Show theme.

What Does A Woman See In A Man - Jimmy Webb wrote this one for his last album Linda Rondstat was producing. Harry loved it so much that he kidnapped Jimmy from the session, and brought him to my studio to record it!

Will You Still Love Me Tomorrow - Harry invited Carol King to sing background vocals, but she never showed!

Yesterday/Georgia - Harry always wanted to record these two songs as an overlapping medley. It came out great.

You Are Here - Never before was this song heard or recorded. Harry wrote this with John Lennon during the "Lost Weekend" period. This is defiantly the best of the lot... my favorite!
Harry and I became real good friends. He would come over to my house practically every day, and we would either record or go for a drive and visit Ringo, Timothy Leary or Joe Walsh. It was a lot of fun. Sort-a like when I was a teenager with my friends... just driving around... listing to the radio, laughing, telling stories and getting high. I do remember one time we were at Ringo's, and I picked up one of his custom acoustic guitars with stars inlaid in pearl on the neck, and started strumming... Harry started singing, "I listen for your footsteps, coming up the drive." Then, Ringo joined in... there I was, playing' a Beatle's song with a Beatle and Nilsson. I'm in heaven again!

Needless to say, when Harry died, I was totally devastated. I still feel a large hole in my life. At Harry's Funeral, George Harrison, Jeff Lynn, Van Dyke Parks, Paul Williams, George Siegal and many other luminaries all came up to me and thanked me for being there for Harry for the last four years of his life. Even at the eulogy, Mark Hudson mentioned me several times as Harry's friend and home away from home. But despite the notoriety, I just look back and remember the good times.
---
---