Sir Roofus Barkelot
Hello, my name is Sir Roofus Barkelot, I love frisbees, bones, and my girlfriend, Boneata. Here is a news article on me from one of my frisbee competitions.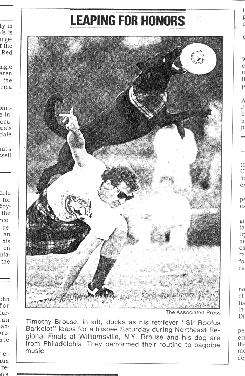 This is my Capn (above in the kilt) with me when we competed in the 1994 Regional Championships in Buffalo, NY. We performed our routine to bagpipe music which is the music of my Capn's heritage. This is also the music of my heritage since I'm a Newfoundland Retriever. That's half Newfoundland, and half Labrador Retriever. Click here for some more of my favorite music.
Here is 94k avi file of me catching a disk. Click here to start downloading.
Another hobby I have is performing in music videos. Check out this 59M full length avi which I star in, or this 3M avi clip for a quicker download.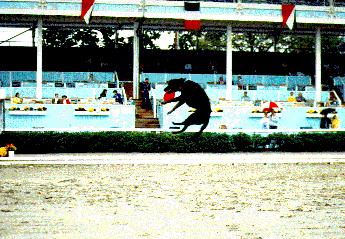 This is a picture of me getting some big air while performing in an intermission demonstration at the 'Dressage at Devon'. Notice the people under umbrellas in the background... heavy rain was coming down, the clay mud on the field was six inches deep, my paws were covered.
Check out some of my other frisbee friends, my girlfriend Boneata (Bow Wowsa! What a babe!) and Rudy, another big, black frisbee dog like me.
Back to the capn homepage.
For more information on me you can email capn@membrane.com