Homepage | Order Music | Song Downloads | Philosophy
The Band
JASON MITCHELL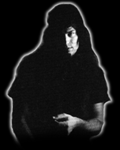 "Growing up in Baltimore exposed me to a variety of different types of people and music, now struggling for dominance/co-existence in the far reaches of my funky mind. I believe in no organizations or systems except those formed by universal love & chaos. The creative and destructive forces of our earth mother nullify questions of good and evil for me. I acknowledge your right to create or destroy yourself as you see fit, using any gods or demons necessary."
Some of his favorite song writing themes are: What is sanity/insanity; Unmasking insidious liars and hypocrites found in gov't, business & religion; Why people believe what they do; Spiritual connectedness in all things. "I like to walk the fine line of sarcasm without cynicism."
His favorite artists are: Marvin Gaye, Sly Stone, James Brown, Jimi, Queen, Jellyfish, Curtis Mayfield, Uli Roth and all the usual greats. From '89 to '93 Jason was in a band called Psychoboy with SNEEF and RJ HOFFMANN.


BEN ASHLEY

Originally from New Hampshire, BEN also lived in Virginia before settling in Phoenix, AZ back in '90. His band Soul Shock Remedy was popular in Phx and featured BEN on guitar and Ken Mari on vocals. After SSR, BEN moved to Chicago and joined The Drift, a power pop band. At the end of summer '94, he returned to Phx and started hanging out with JASON, who at this point was full of wild ideas and theories. Aside from Universal, he performs locally in Phx with his band Glory Revival.



Click Back to the Homepage
Other Friends That Help Us Out
JOHN HERRERA
One of the hardest-working musicians on the planet, John shames others who revel in sloth and gluttony, or anyone else who listens to his lectures on history. His alliance with Jason and Ben stems from his Stalin-esque domination of them wrought while teaching in a Phoenix music store.

In addition to playing drums and percussion, John engineered, co-produced and co-mixed Cosmic Trigger at his home studio, Clamsville. He spent many long-suffering evenings, mornings, etc., at the helm of his 24 track digital mothership subject to the whims and foolish flights of fancy of J & B.

Clamsville, a multi-faceted facility, is noted for its small control room and medieval iso-booth where temperatures have been known to exceed 120 degrees. Nevertheless, C-ville boasts a 24 trk. digital studio with full automation and editing suite with no ADDA conversions. That's right, techno-geeks, there's pure digital stream from beginning to end here at Clamsville! (We're sorry for this shameless plug, but John has our master tapes).

El guapo, as he is called by the teamsters, also records and plays freelance gigs with whomever will tolerate his explanation of how our species exists and thrives on our inability to recognize our own shortcomings as human beings. Just leave it at that. John is originally from La Luz, New Mexico.

SNEEF

Formerly a bandmate of Jason's in Psychoboy, Sneef presently plays keys and guitar in the Michael Schenker Group. He shares the same odd parents with Jason and remains an enigma, a curiosity of the keyboards, and future pop icon.
DIANA LEE
Phoenix' first lady of soul and all-around beautiful person, Diana can be seen performing regionally with the Donny Dean Band and internationally with Sister Sledge.
DONNY DEAN
A unique guitarist and vocalist, Donny fronts his own band with Diana Lee. Charismatic and full of universal love - The real deal.
FREDDIE DURAN
Leader of the Freddie Duran Plan, Freddie is a talented singer/songwriter who has recorded several albums with John Herrera.
MIKE BROENING
An incredibly versatile keyboardist, Mike was approached to play on CT by John, who also plays in the jazz group Turning Point with him.
CHRIS SKOWRON
Chris plays sax in several Pheonix bands, including avant Funk-Punk-Jazzers. Rusty Jones.
Sponsored in part by:
(click here to visit the site)

---
---